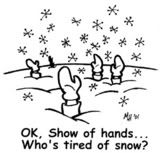 It's been cold this week. Very cold. And the snow finally caught up with me. Now, I'm no killjoy - it's very pretty and all that - but it stops being funny when you can't walk the dog without breaking a limb and have to get rescued by someone in a car. And snowmen are ok for about 20 minutes, but after that I'd rather be in the warm thankyou very much.
So, I
really
hope we've seen the last of snow this winter.
And I'm still waiting...
By Thursday night my nerve cracked and I shot off an email to the agency, asking nicely whether they got my full and phone number. (Joking aside it wouldn't be funny to find the email had gone astray - yeah, I know it's unlikely but you never know!)
So imagine my surprise to get a reply within the hour - jeez, what hours do these guys work? - to say he's still reading it and he'll phone me next week.
Good news, but now my nerves are twanging like overhead cables in a snowstorm.
Watch this space...