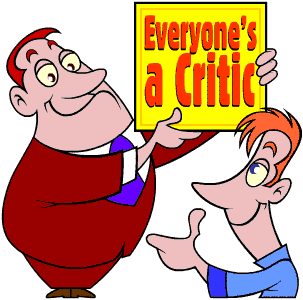 So you write a book and you edit it to within an inch of its life. You get so sick of looking at it and thinking about it you want to toss it in the trash, but something holds you back. No - better keep it on the hard drive, just in case. A few months later you stumble across it and start reading. Wow! Not bad! Maybe I should get a second opinion on this.
So you join a critique group. Lots of clever writers to tell you what's wrong and how to fix it. Just the ticket.
So you post your chapters and await their responses with baited breath. Some may be complimentary, which gives you a boost. Some may miss the point entirely which makes you feel frustrated and upset. Occasionally someone is perceptive enough to see what you're trying to do and offers some solid gold advice on how to improve your work. But that's rare. The fact is, the crit shoot is a long shot at best.
I think the problem with crit groups is:
They are populated with a wide range of people - wide ranging in taste as well as ability.
They exist to find fault with a piece so people don't read something to appreciate its merits, ie the way a reader would read. If you study the first chapter of any novel you will find faults of some sort. It's inevitable. A reader reads to be transported but that won't happen in 'edit' mode.
Unless you beta read the whole thing, there is no way of gauging the whole story. Early chapters can only tell a very limited amount about the writer's ability.
Critters can become full of their own importance, in the way a lot of critics think their critique is more important than the art they are describing. Opinions can become entrenched, rules written in stone.
Show don't Tell
is one of the favourites, despite the fact many novels are chock full of tell. And bad advice from inappropriately applied 'rules' undermines a writer's confidence.
So, when dabbling in crit groups have a care and always remember a crit is
one person's opinion
and nothing more.