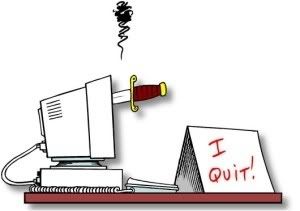 I've seen a few of these posts lately on the many boards where I lurk.
"
I've spent forever on my book, sent it to every agent and publisher in the English speaking world, got nowhere with it. Should I attempt yet another rewrite or give up on it and start something else?"
Some are even more profound. After years of trying the poster is wondering whether to throw in the towel altogether.
Tough questions. And they're not the sort there's a simple answer for.
Time was when publishers and agents were the acid test of what was publishable - if they didn't want you it was a fair assumption you weren't good enough so maybe you should call it quits. But the times, they is a-changin'. How do you measure your worth when the publishing industry is in a recession and even previously published authors are finding themselves on the scrap heap? You could drive yourself mad endlessly rewriting a book that's perfectly acceptable in the mistaken belief it will bring a book deal closer. All the time the book deal isn't there, however good you are.
I've read a couple of interesting blog posts this week which touch on the changes happening around us.
The Book Deal
touches on the issue of self publishing as a real prospect for getting noticed by mainstream publishers. He speculates this may be the source for publishers' mid list in the future. It's a controversial suggestion - a couple of years back no industry insider would have entertained the idea. But it's indicative of the way the landscape is shifting.
And
here is an interesting interview
with Writers' Digest publisher Jane Friedmann about how she sees the role of agents changing in the future. Food for thought.